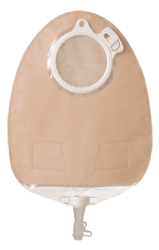 SenSura® Click Uro MIDI Urostomy Pouch, 10/bx
Save

0

%
Save %
Login to view price.
Sensura ® Mio Click is NOT compatible with SenSura® Click or Assura® systems. SenSura® Click and Assura® are compatible.
SenSura Click is a two-piece system with a mechanical coupling for extra reassurance
The pouch is fixed securely to the baseplate by a mechanical coupling system. An audible 'click' confirms that the pouch is locked securely to the baseplate
Before the pouch is locked into position, it can be rotated into the desired position, without the pouch having to be removed from the baseplate.
The pouch can be removed from the SenSura double-layer baseplate, allowing the pouch to be changed more often than the adhesive baseplate.
Multi-chambers minimize sloshing
Wider anti-reflux valves prevent urine from washing over the stoma
Soft outlet can be connected to urostomy night bag #21365 or any standard night bag
Soft cloth on back (and front of opaque)
SenSura Click urostomy is available with a flat or convex SenSura and SenSura Xpro baseplate. The broad assortment consists of a range of baseplates with pre-cut or cut-to-fit hole sizes which can be customized, and transparent or opaque pouches in a variety of sizes.