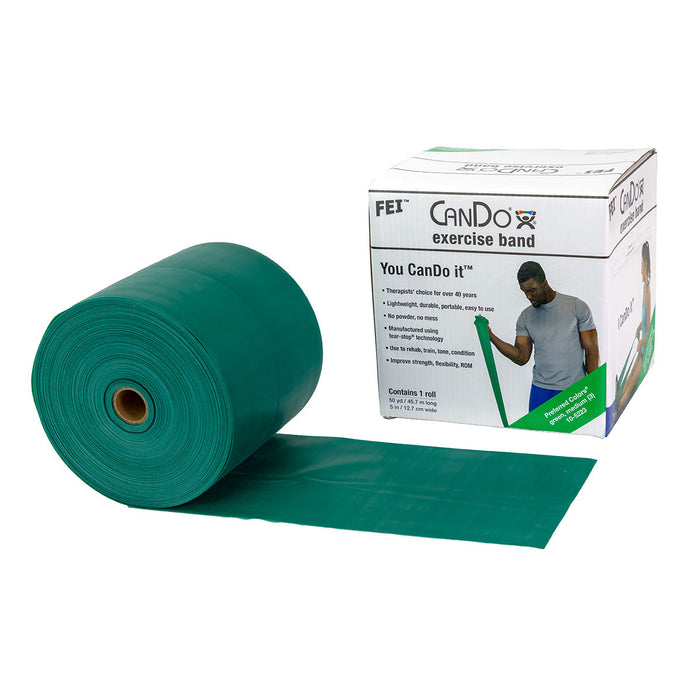 CanDo Low Powder Exercise Band Rolls - 150' Dispenser Box (50 yds)
Save up to

0

%
Save %
Login to view price.
CanDo Low Powder Exercise Band Rolls - 150' Dispenser Box (50 yds)
CanDo Rolls of Exercise Bands are perfect for rehabilitation, fitness, physical therapy and athletic training. Additionally, they are great for anyone using them for stretching, muscle toning, improving balance and conditioning all major muscle groups. Packaged in a dispenser box, simply unroll the desired length of exercise band from the box and cut with scissors.  
The CanDo Exercise Band is the premium exercise band solution, containing natural rubber Latex and all the functionality, stretchability and benefits that come with it. So versatile, these bands are super for upper and lower body exercises that are simple, easy to do and can be performed anywhere. Lightweight, compact and portable, the high quality and superior characteristics of these bands are why they are used in physical therapy and athletic training by clinics, fitness centers and individuals nationwide.
Exercise bands are effective when used alone or with handles and anchors. Made with natural rubber Latex which may cause allergic reactions. They are a well-known staple of most physical therapy offices, clinics and gyms because they are durable, powderless and textured for easy gripping. The 50-yard rolls come ready to use in a dispenser box. Bands are available in 8 levels of resistance for progressive exercise. Levels range in order of strength from least to greatest resistance: tan, yellow, red, green, blue, black, silver, gold.