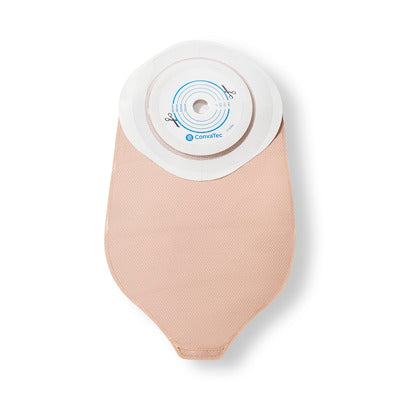 Esteem®+: One-Piece Urostomy Pouch with Durahesive® Cut-to-Fit Flat Skin Barrier and Accuseal® Tap with Valve, Extended Wear, Transparent, 10", 10/bx
Save

0

%
Save %
Login to view price.
Esteem®+: One-Piece Urostomy Pouch with Durahesive® Cut-to-Fit Flat Skin Barrier and Accuseal® Tap with Valve, Extended Wear, Transparent, 10", 10/bx
This pouch is Transparent with 1-sided comfort panel and acrylic tape collar (AC). Includes belt tabs
The Esteem+ one-piece urostomy pouch with Durahesive®, cut-to-fit skin barrier and Accuseal® tap with valve.
Key benefits include:
Durahesive Skin Barrier designed for skin health and security to help minimize leakage
Cut-To-Fit opening tailored to individual stoma size and shape
Soft Belt Tabs for secure attachment of pouch to ostomy belt
Body-Side Comfort Panels for comfort and discretion
Transparent Clothing-Side Film for accurate positioning of pouch and observation of stoma and output
Accuseal Tap that quickly and easily drains liquid output
Swivel mechanism - open and closed positions
Red marking indicates open (drain) position
Designed for connection to night drainage adaptor
Anti-Reflux Valve helps to prevent backflow of output