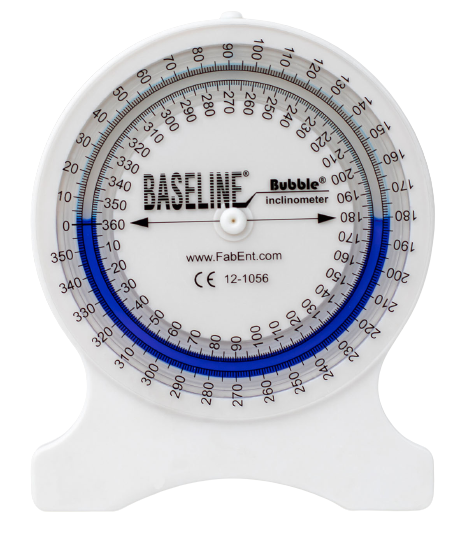 Bubble Inclinometer
Save

0

%
Save %
Login to view price.
The Baseline Bubble Inclinometer precisely measures, tests and evaluates the range of motion of necks, hips, spines, elbows, knees, shoulders, ankles, wrists and MCP joints. To use, place the Inclinometer near the joint to be measured. As the joint gets manipulated, the range-of-motion displays (in degrees) directly on the dial. Baseline products have been 

the choice of leading Medical Professionals, Therapists, Doctors and Rehab Clinics for decades. The Inclinometer is ideal for plotting the curvature of the spine as well as measuring lateral movement. The Inclinometer can measure the entire range of Flexion, Extension, Abduction, Adduction, Dorsiflexion and Plantarflexion. The included protective carry case ensures security for travel and everyday storage. Also included is a detailed instruction manual. Standards codified in AMA Guide to the Evaluation of Permanent Impairment, third edition. Baseline Products have been a trusted name in measurement and evaluation instruments all over the world since 1974. If you have ever received therapy after an injury, you have probably had your progress tested and measured with a Baseline measurement instrument.