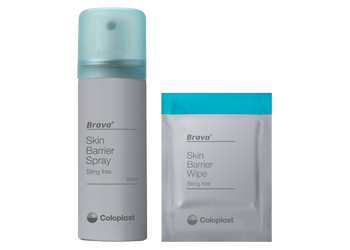 Brava®: Skin Barrier
Save

0

%
Save %
Login to view price.
Brava®: Skin Barrier
The Brava® Skin Barrier is sting-free and reduces skin problems associated with output and adhesives. It leaves a thin breathable film on the skin protecting it from damage. It dries within seconds and does not build up residues on the skin, leaving you ready to apply a new baseplate. It comes as a spray or a wipe. The wipe is practical when outside of your home or travelling due to its size.
Brava® Skin Barrier Spray
Protect against effluent and adhesives
Dry within seconds without building a thick or tacky layer
Alcohol-free, silicone-based, and sting-free
Brava® Skin Barrier Wipes
Protect against effluent and adhesives
Dry within seconds without building a thick or tacky layer
Alcohol-free, silicone-based, and sting-free
Tip: wring the wipe like a wet rag to expel the liquid, then wipe to disperse on skin for extra protection